Have you ever dreamed of captivating an audience with your acting skills? Becoming a successful actor requires more than just raw talent; it demands dedication, training, and the ability to consistently deliver compelling performances. If you've ever wondered why some aspiring actors fail to make it big, we've got the answers for you. In this blog, we will explore the top five reasons why people struggle in the acting industry and how enrolling in acting lessons can significantly enhance your chances of success. When it comes to honing your craft and securing more acting bookings, the Story Institute in Vancouver stands out as a highly-ranked acting school, catering to aspiring actors of all ages, with a long list of successful alumni.
Reason 1: Lack of Confidence
One of the most common reasons people fail at acting is a lack of confidence. Performing in front of an audience or camera requires self-assurance and the ability to express emotions authentically. Acting lessons provide a supportive environment where you can build confidence and overcome stage fright. Through various exercises, you'll learn to trust your instincts, project your voice, and develop a commanding stage presence. The mental and physical characteristics of nervousness and fear are very similar to excitement and joy. One version can bring you joy and the other can make what you love less enjoyable. 
Reason 2: Inadequate Training
Many aspiring actors dive headfirst into auditions without proper training, leading to missed opportunities. You make first impressions only once. Casting will often say one of two things, "Why didn't I meet you 6 months ago?" or "Let's see you again in 6 months after you've had more training." You don't want the latter. Acting classes provide a structured curriculum designed to enhance your skills in improvisation, character development, script analysis, and more. By learning from experienced instructors at the Story Institute, you'll gain valuable insights and techniques to sharpen your acting abilities.
Reason 3: Lack of Versatility and directability.
Acting demands versatility, as each role brings unique challenges. Without proper training, aspiring actors may struggle to adapt to different characters and genres. Acting lessons help you explore a range of acting styles and techniques, enabling you to embody diverse roles effectively. The Story Institute offers comprehensive programs that cater to actors of all levels, allowing you to discover and develop your own unique acting style. It's also extremely important to remember this is a collaborative industry with subjective interpretations of stories. Actors who can shift paradigms or perspectives and see a scene differently in an efficient manner become incredibly valuable on set.
Reason 4: Poor Audition Technique
Auditions can make or break an acting career, and many talented individuals falter due to poor audition technique. Acting classes provide valuable guidance on preparing monologues, cold readings, and self-tapes. You'll learn how to make strong choices, showcase your talent, and leave a lasting impression on casting directors. In all industries, you will hear the old adage that some people are good in the interview and some are good at the job. The secret to consistent success is to master both. They are similar core skills with adjustments specific to the stage of the process. Story Institute equips its students with practical audition skills, empowering them to stand out from the competition. 
Reason 5: Limited Industry Connections
Establishing a network of industry professionals is crucial for success in acting. Acting lessons not only provide an opportunity to connect with fellow aspiring actors but also introduce you to experienced instructors who have industry connections. Story Institute boasts a long list of successful alumni, some of whom have achieved recognition in film, television, and theater. This prestigious acting school provides a valuable platform to connect with like-minded individuals and build lasting relationships within the industry.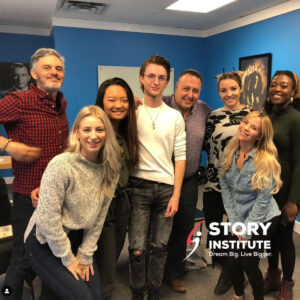 5-Star Google Reviews:
"Attending acting lessons at the Story Institute was a game-changer for my career. The instructors are incredibly knowledgeable and supportive, and the curriculum is well-structured. I gained confidence, improved my skills, and even landed a few acting gigs after completing the program. Highly recommended!" – John 
Conclusion:
If you're passionate about acting and aspire to excel in the industry, enrolling in acting lessons is a must. Story Institute in Vancouver offers top-notch training for actors of all ages, backed by a reputation for producing successful alumni. Whether you're a beginner or an experienced actor looking to enhance your skills, their comprehensive programs will help you unlock your full potential. Don't miss out on this opportunity to take your acting career to new heights – book an acting lesson with Story Institute today and embark on an exciting journey towards becoming a standout performer!