THE

MOST COMPLETE

ACTING CLASSES

 

VANCOUVER OFFERS:

SEPTEMBER 2019
Story Institute offers accredited, industry-tested training programs (full-time and part-time) in acting, screenwriting and song creation for serious adults, kids, teens of all experience backgrounds. Our acting training programs and writing intensives provide the training required by today's aspiring professionals, including critical insights and techniques, extensive on-camera experience, and the comprehensive business package required to work in film, television, commercials, animation, and video games as well as the incredible diversity of today's formats and platforms. 
Stories Change the World. Time To Tell Yours.
Story Institute is not "just another film or acting school in Vancouver". We're a story school. The difference can make or break a career. 
Think about it: How many times have you seen a movie or TV show that looked cool…but the story? Didn't grab you at all. Couldn't connect with the characters. No clue what it was trying to say. 
Fact: Story is king. It's why we love the shows we do. Why we want to see them over and over again. Why we still adore them years later.
And it's why amazing storytelling is at the heart of every one of our programs. Telling stories well is the foundation of every good script, every great performance, every memorable production.
So we don't just train decent actors, writers, and music makers, but game-changing storytellers that get it, ready for success in both conventional media formats like film and television and emergent platforms like web series, podcasts, YouTube, and other digital streaming.
If you've had a dream, but just needed the right opportunity, this is it at the best acting school in Vancouver. It's your turn, your time. Stories change the world; t's time to tell yours. Dream big, live bigger.
Serious about becoming a professional actor, screenwriter, or songwriter?
Tell us how we can contact you with more information.
GRADUATES become LIFETIME MEMBERS of Story Institute acting school, receiving numerous career advantages, including free career guidance, mentorship, support, and access to industry resources. It's a big reason why our students consider us the best acting school in Vancouver.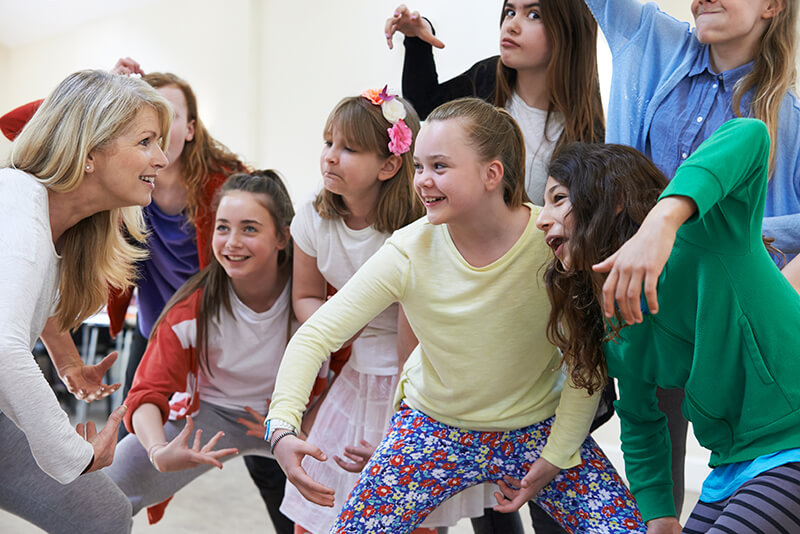 Smart class sizes = More one-on-one.
Small by design (12-student max per cohort), students enjoy the supportive family environment and essential one-on-one mentoring from industry professionals needed to succeed after taking acting classes. Students are more likely to improve and diversify their skill sets in environments where they are surrounded by like-minded individuals and receive strategic, one-on-one formative feedback from instructors that constantly challenge and improve their performances in real time. Manageable writing and acting class sizes ensure that each student gets the attention and quality acting lessons they'll require.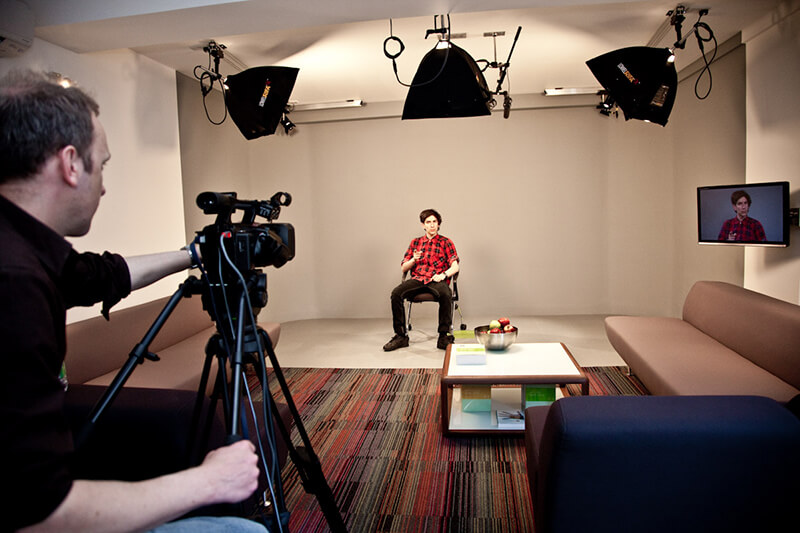 Media production planning = next level career prep.
As a Vancouver acting school and story hub, reparation for original media production is baked right into the curriculum, culminating in a final Capstone Project students can use to secure work or produce their own media after graduation at our acting college. In addition to skills and techniques acquired in our Vancouver acting classes, students learn every essential step of the "BIG 6″ " STAGES OF PRODUCTION, including story development, pre-production, production, post-production, marketing, and distribution, preparing them to work on major film and media productions or building a master plan for the production of their own passion projects.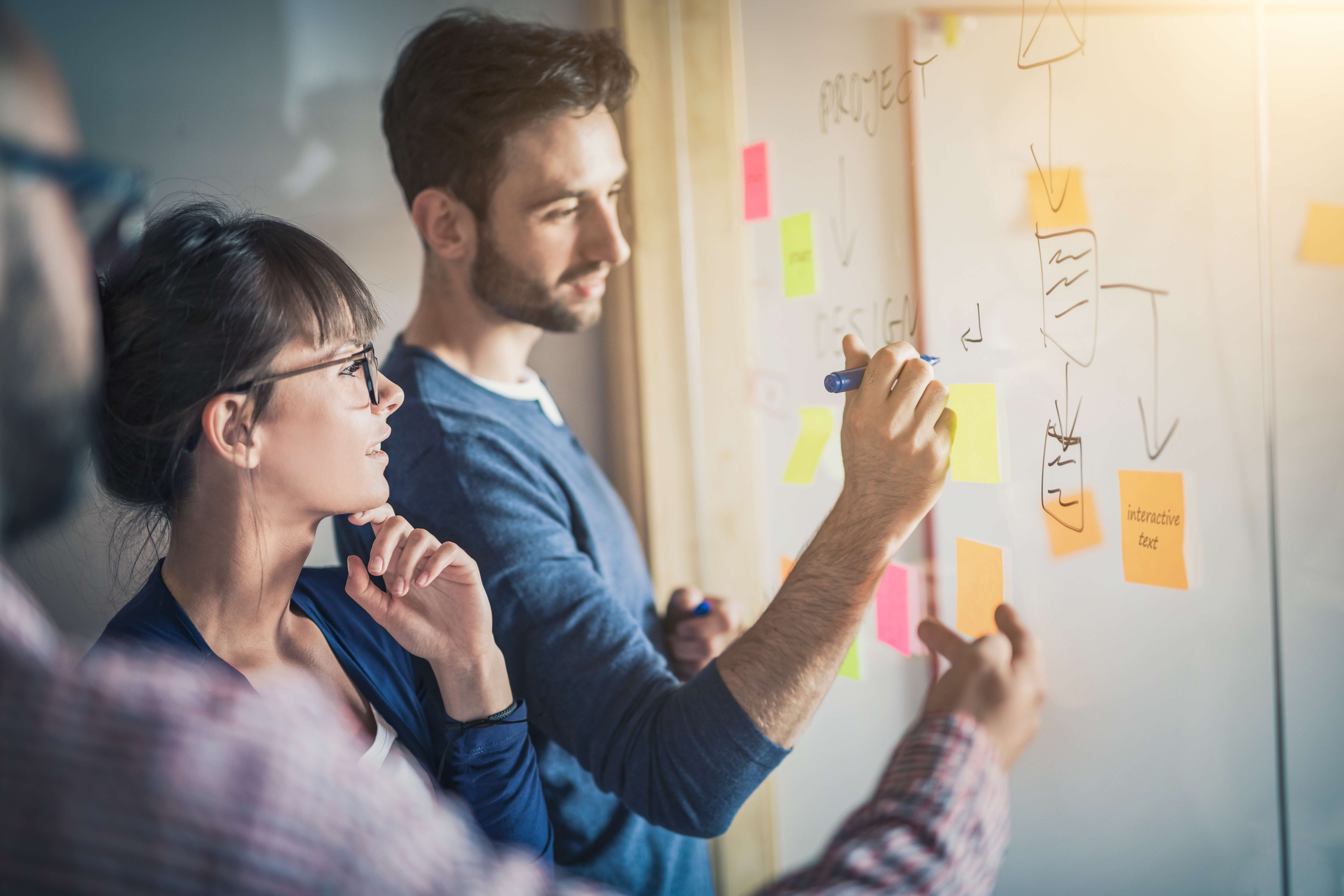 Graduates receive mentorship for life.
Training is just the beginning. As the industry continues to evolve (and it always will), you'll inevitably have questions. After graduation, our acting college in Vancouver alumni become lifetime members of Story Institute, receiving free career guidance, mentorship, support, and access to our database of resources. We make it a priority to always stay on the cutting edge of what is happening today and what's being developed for tomorrow.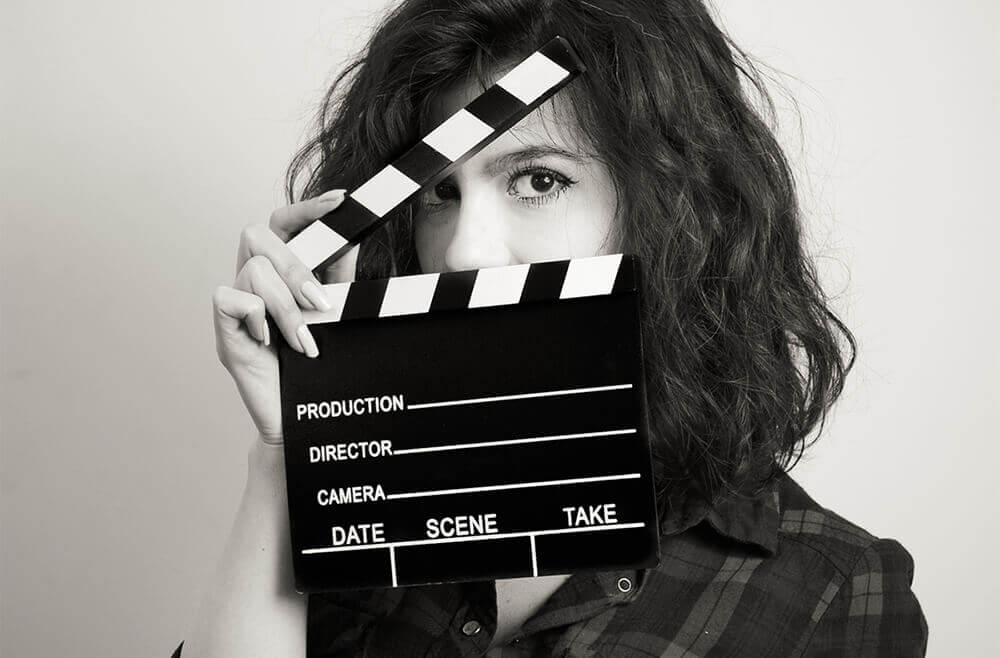 Partnering with high schools to foster arts education.
Understanding the unique challenges faced by secondary teachers in the delivery of arts education as they seek to support students who have arts career goals, we work with schools to provide free, in-class, industry-standard acting workshops, writing workshops, songwriting workshops, media development workshops, and follow-up mentorship. 
Business training = entrepreneur mindset.
One of the oldest myths in the world is that of the "starving actor", the "struggling writer", the "penniless musician" – leading many to conclude that pursuing such as a career is just a pipe dream. Don't believe it. Nothing could be further from the truth – so long as artists are trained with an entrepreneurial mindset. Truth is, the creative in you needs to shake hands with the businessperson in you, as soon as possible. Don't worry, we're here to help with that. At Story Institute acting school, every student learns the fundamentals of small business setup, financial self-management, business taxes, contracts, legal considerations, resume and portfolio development, and personal marketing strategy. After all, you're effectively starting your own small business in which you are the product, the CEO, and the team. Don't just take the best acting classes Vancouver has to offer; learn how to build and manage your business and be successful for years to come!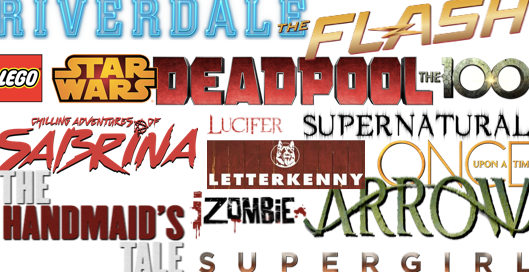 Our students work, big time.
Like their instructors, our students have gone on to work in B.C.'s booming, multi-billion dollar film, TV, and digital media industry on productions like Riverdale, Letterkenny, Deadpool, Supernatural, Sabrina, The Handmaid's Tale, The Flash, DC Legends of Tomorrow, Arrow, iZombie, My Little Pony, Lego Star Wars and more. Voice acting in Vancouver has become almost as big as acting for film and television!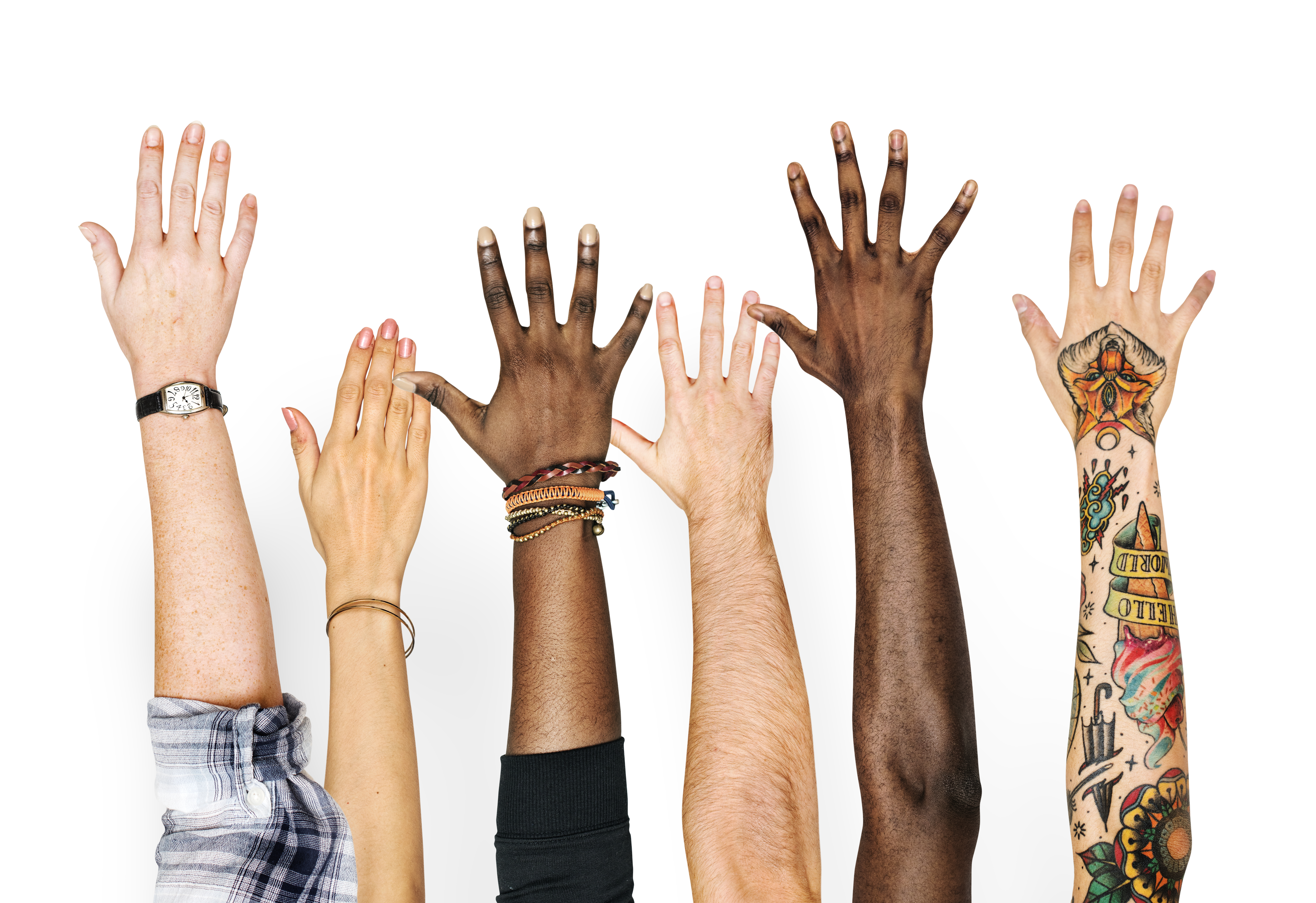 Community Volunteerism Scholarships.
With a sincere desire to give back to local communities, we offer a host of scholarships tied to demonstrated volunteerism in community organizations and projects chosen by students themselves. Most people who commit to a life in the creative arts do so because they demand more of life. They don't simply want to survive or exist; they want to use their influence to make the world a better place. Our students are encouraged to give back to their communities and neighbourhoods, participating in random acts of kindness and incentivized through unique scholarships. Ask us for details.
Story Institute's Core Values
Life is short. Everyone should be encouraged to pursue a vocation doing what they love.
Artists should always feel proud and excited about being creative, and be supported in their pursuit of a career as an artistic professional.
Creative people should be financially free to create most of the time.
The world is made or broken by stories. Consequently, storytellers are the most powerful people in our world.
Everyone has a story (or stories) to tell.
Diversity is more important than ever. Everyone has the right, and should have opportunity, for their story to be heard.
Education should release and empower potential, not shoebox or shrink it.
Because one's calling develops in the early years, we actively support parents and teachers as the primary nurturers of dreams and creativity.
We participate in and train for art-based markets where students can find satisfying, sustained employment.
We mentor and provide resources for our graduates as lifelong learners.
Every artist should think like an entrepreneur.
Every student is a mentor.
We make complex learning simple and 100% applicable to real life.
Respect, honesty, and trust are more important than "getting students". Those seeking education should get the training that is best for them.
We will say no to thousands of projects in order to focus on the few that are meaningful and important to us.
We believe in deep and constant collaboration and cross-pollination between our programs to constantly innovate in ways other schools cannot.
We constantly aspire to excellence, pausing regularly as a team to self-reflect, honestly and without judgment, making changes promptly and smartly.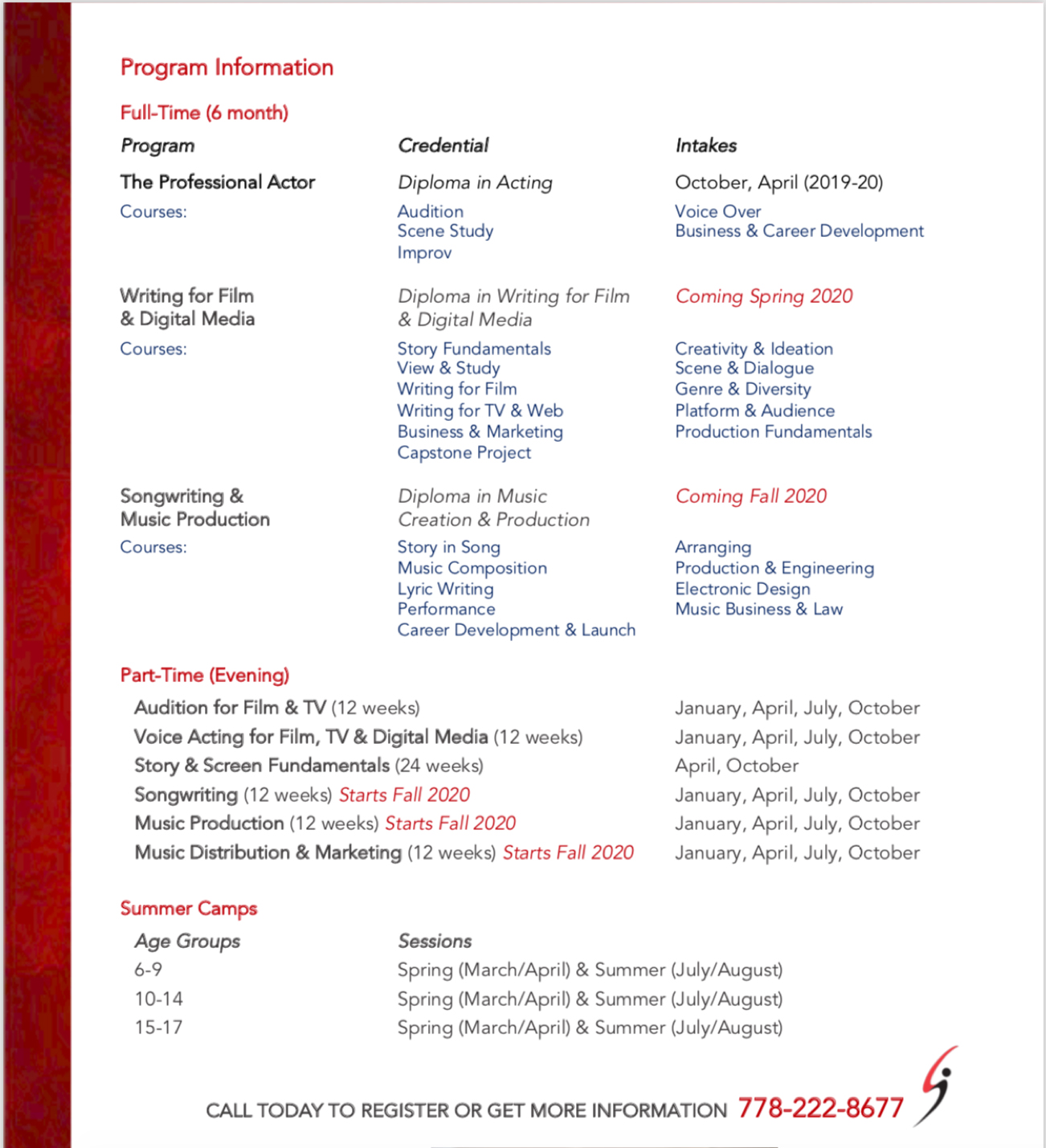 Connect With Us Today!
If you truly enjoy acting, writing, and/or singing and want to be the very best you can, give us a call. We will prove we are the best acting college/writing college/singing college of choice and we can provide you with the training you need. We believe with the right training and attention to your strengths and weaknesses, we can help you perfect your craft so when your time to perform comes, you're more than ready!
Our Vancouver classes provide the skills, techniques and knowledge to make you a better, more well-rounded actor and help you have a successful acting career.
320 - 640 W Broadway
Vancouver, BC V5Z 1G4, Canada
778-222-8677